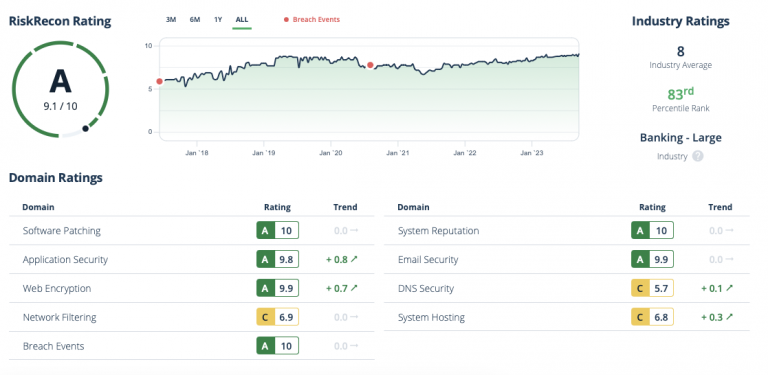 Your Free Security Rating Report
What is the security rating report?
This is a free report that provides a summary of your organization's current security risk rating using RiskRecon's Third Party Security Risk Monitoring cyber risk assessment technology.
How can you use this Security Rating Report?
Your business relies on external partners to deliver essential services, and you trust them to safeguard the security of your data and ensure the availability of these services.
With RiskRecon, you can benefit from comprehensive vendor security monitoring that is specifically tailored to align with your risk policy. This powerful solution simplifies the understanding of potential risks, allowing you to make informed decisions. RiskRecon's efficient workflow enables seamless collaboration with your vendors, empowering you to take proactive measures and achieve favorable risk outcomes.
What can you expect from this Security Rating Report?
Access a snapshot report of your current security rating for a limited time

Know what the findings are and what they mean to your risk score across multiple security domains

Learn how your organization's cybersecurity performance compares to competitors & peers in your industry

Learn how to use your score to influence corrective action with risk prioritized data based on issue severity.
Benefits of using Risk Recon from Mastercard

Please Fill Out The Form To Download Your Risk Report
Warm Regards
Team Marketing