Over the last decade, the banking sector experienced tremendous digital growth, technological advancement, and globalization of services. But, it was over the past year that the banking sector realized the true power of digitalization . The new banking era witnessed overnight changes to business processes, functions, workforce, behaviour, and the evolving demands of new millennial customers and service delivery. The mass movement to remote working called for near-complete reliance on cloud services and infrastructure.
While digitalization has ensured busine ss continuity, the expanding digital ecosystem has rendered banks vulnerable to cyberattacks. According to a Carbon Black Inc. report, attacks against the financial sector grew 238 percent due to COVID-19. The 'unprecedented anomaly' has forced banks to step up their remote security protocols. A vast majority of banks are moving towards multi-factor authentication (MFA). The additional layer of authentication requires a user to present two or more types of factors to access digital assets – such as online banking.
Security priorities for banks
The security challenges of remote working impede business productivity and continuity. Most large banking organizations have charted an adaptable plan providing necessary work devices, bandwidth, and VPN licenses with basic authentication for operations. The current focus is on establishing operational compliance in a remote setting.
Within a bank's on-premise secure network, the risks of data breaches are limited. But in the case of remote workstations securing endpoints is an ongoing challenge for IT teams. With over 70 percent of breaches occurring at endpoints, enterprise priority is to secure endpoints.  MFA helps banks enforce an effective endpoint security approach by providing an additional security layer.
Implementing adaptive authentication process
Adaptive authentication processes the login details with the previously collected user profiles such as geographical location, registered devices, role, and more. Every login is evaluated with the collected data assigned risk scores to access. or instance, CyberArk's adaptive MFA solution implements an adaptive authentication process through its MFA.  Its Idaptive cloud agents support MFA for boot screen and lock screens for Windows and macOS.
AI and ML are providing much-needed breakthroughs to secure endpoints with MFA. AI constantly monitors user's behaviour to detect a data breach. The outcomes received from the AI are used in ML algorithms to process/cleanse the authentication process further.  For example, CyberArk's smart-MFA solution incorporates AI and ML to provide risk-aware, intelligent, and password-less identity assurance controls, thereby providing its users stream-lined, best authentication security cover.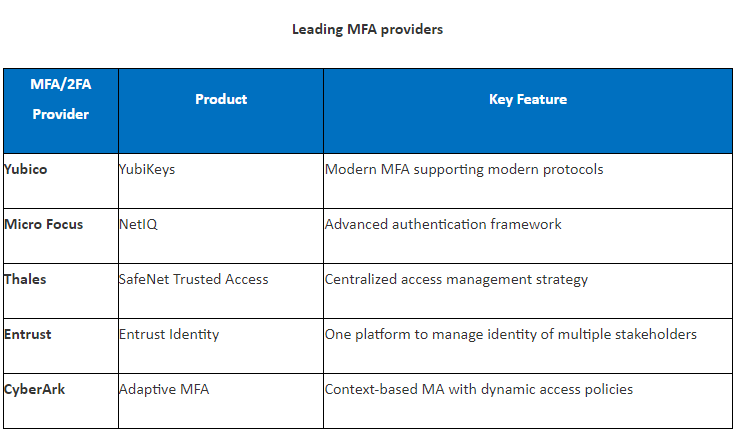 Strong customer authentication
Banking regulations also play a role in driving MFA adoption. For instance, the new Payment Services Directive (PSD2) by the EU requires banks to implement a minimum of two-factor authentication systems. The directive states the need for strong customer authentication based on two or more elements – knowledge (something you know), possession (something you own), and inherence (something you are). Similarly, modern authentication standards such as Fast Identity Online (FIDO), FIDO2, and WebAuth require an MFA implementation.
Despite its benefits, MFA implementation is limited to certain applications and users only. Business leaders have cited high costs, lack of skills, and hindrance to user experience for its low implementation rate. With changing regulations, hybrid tech stacks, and an increase in fraudulent activities, banks require a holistic approach to implementing enterprise-wide MFA initiatives, says Mr. KrishnaRaj Sharma, Director & CEO, iValue InfoSolutions. Implementing multiple sources of identity, physical keys, and a defined set of business rules is the emerging security best practice standard.