DIGITAL TRANSFORMATION SOLUTION
Services Solutions and Services to Build, Manage or Upgrade Data Centre's Ensuring Reliability and Peak Performance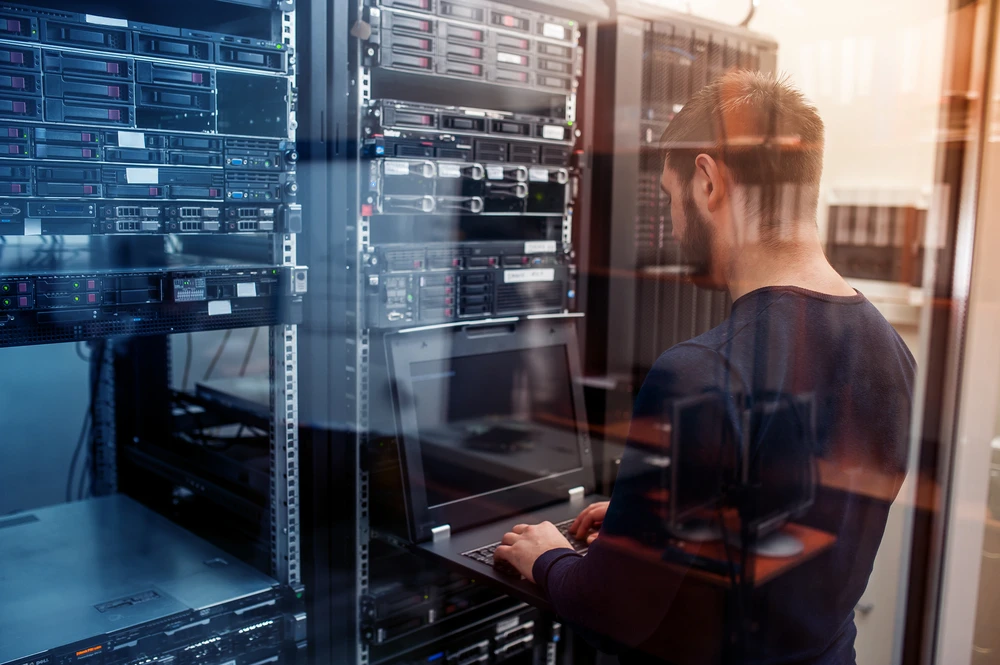 Your enterprise infrastructure needs to be well-maintained in order to keep your business operations in peak performance. But before that, you need effective Data Centre Design Services to help you build out a scalable, reliable, resilient, and robust data centre. 
There are myriad solutions and services to build, manage or upgrade data centres, ensuring reliability and peak performance of an enterprise, giving rise to data centre design services. 
Why are data centres even important? While the marketplace is teeming with messages about Cloud-First, Cloud Native, and Cloud Smart, there are businesses that are moving away from the cloud because, especially for small and medium enterprises, it may actually be more cost-effective to take the data centre route.  
That said, every business, regardless of its size, has a data centre whether on-premise on on-cloud. In the modern world, data centres are key business parameter, since the data centre influences the functioning of business enterprise. Any interruption can lead to serious breakdown. Hence, building, managing, and upgrading data centres  – in essence, data centre services, are crucial to all businesses. Since lost data are incurable unless you have their backup, a failover, and adequate business continuity infrastructure, data centre design services include backup infrastructure as part of the storage design, and BC/DR for applications and other infrastructure.
What makes for reliable data centre design services?
Comprehensive – The data centre design services must cover all aspects of enterprise infrastructure
Convenient plan – The data centre must designed to synchronise with the existing IT infrastructure. Also, it should provide adequate connectivity to get in line with business operations.
Improved efficiency – data centre design services should consider how the data centre integrates different lines of business, geographies of operations, and teams, so there is efficient collaboration between them.
Cost – Data Centre design services need to balance the need of the enterprise for the different components that go into data centre design, and the cost-benefit analysis of the different choices made. 
Future Resistant – your infrastructure needs to be reliable, scalable, and adaptable for the current as well as future business needs and the business vision.
Data Centre Design Services, thus, need to be structured to cover the server, storage, backup, data, network, applications, and tools that you use as part of your data centre.
HOW IVALUE DATA CENTRE DESIGN SERVICES CAN HELP
Enter Digital Operations (DigiOps) and AI-enabled Operations (AIOps). When you use our data centre design services, we architect your data centre to the specifications required to enable DigiOps and AIOps. 
We understand that your data centre services need to be structured in a manner that allows for pervasive automation and orchestration of operations in a highly-virtualized landscape, as much as in a legacy infrastructure context. 
iValue's Data Centre Services encompass 
Enterprise Data Centre Design Services – where we understand your requirements and design a data centre that suits your needs and is a reflection of your business operations.

Data Centre Migration, Consolidation, and Transformation Services where we combine data centre design services with other facets of data centre services to help you improve your data centre's performance

Enterprise Infrastructure services – which offers scalability and flexibility, with time-saving attributes and easy management of your data centres for today and expansion plans for tomorrow.

Data Centre Deployment & Integration Services – ease of better management of resources, integrated monitoring of network, power, and environment, visibility of infrastructure assets.

Data centre services for Performance Optimization & Migration, which offers reliability, energy efficiency, and better uptime.

Security Health Check – offers better management of vulnerabilities, checks on extra cost and reputation damage due to security breaches, provide evidence of compliance with regulatory and certification standards and provides assurance to customers and suppliers that their data is secure. Bundled as part of the Data Centre Services offering, the security services add value by integrating your security operations into an enterprise security posture.

Vulnerability Assessment & Penetrative testing – this component of iValue's data centre services helps you better understand your assets and their vulnerabilities and the overall risk to the organization, thereby reducing the chance of security breach. Get detailed information about threats and vulnerabilities from inside and outside of your infrastructure and evaluate the risks and implement prevention before risks become security incidents.

DNA Health Check for Password Policy – the first step to secure your enterprise is with this feature.

NDR & DR Design, Deployment & Migration Services – ensure that business services can be delivered to customers despite a disruption in network connectivity. With a strong Disaster Recovery design, deployment and migration services in place, you will be better prepared for business continuity and will have the power to bounce back with a lesser downtime when the terror strikes.

Risk Assessment – Identify risks and threats to your network, both external and internal, opportunities to upgrade to better security requirements, data/document security, educated workforce, increased motivation
Contact us now to run a stress-free business.